The Power of Pink Nail Designs
Red is power; white is purity. What happens when you combine the two? You get an innocent shade of color known as pink, with the simultaneous power of sex appeal. Style Interest has put together 70 photos of innocently sexy pink nail designs to show you the potential such a color has in the fashion world, particularly on your fingertips. Many women find that pink is a cliché color for nails – but once you've taken a look at these designs, you'll fall in love with the color all over again.
1. Silver Traces

Powder pink with silver lining the edges. Sparkles are a sure-fire way to increase the majestic appeal of any set of nails. Glamor it up and sparkle!
2. Barbie World

Yes, these definitely remind me of my old Barbie dolls when I was a child. The color is a hot pink, meant to be sexy and innocent simultaneously. How crazy that this shade ended up on Barbie.
3. Magic Shimmer

These sparkles are bronze/gold and add a lovely shimmer to an otherwise dull pink. But the shape of the nails are perfect, and the big blue glitter pieces really create a distinct look.
4. Mismatch Mantra

There's never a dull moment when each nail has a personality of its own. We love the added green gems – it's rare to see such color combinations.
5. A Giraffe's Dream

Mimicking the pattern of a giraffe is fun when it comes to pink nail designs. Granted, this design will take some time to create, but the outcome is worth it. Look at those monochromatic shades!
6. Stage Lights

You're a star! These nails remind me of a vanity backstage with lots of lights shining against the faces of beautiful stage artists.
7. Face of Beauty

A lovely pale pink indeed, but with a twist of Parisian mystique. I wonder what she's thinking of as she rests on the wearer's fingertip.
8. Babydoll Bows

Bows galore. Who doesn't enjoy the many styles bows can transcend to? Pink nail designs like this one are the reason some women get out of bed in the morning (a jest!).
9. Sunset Magic

Fading from a peachy pink to a deep violet, this set of pink nail designs is a fabulous addition to most bikini looks – it's black designs are slightly reminiscent of palm trees.
10. Mini Pink Glamour Tutorial

If you're a visual learner, take a good look at the steps taken to fashion this lovely set of diverse nails. You'll be complimented more than you can imagine.
11. Soft & Delicate Golden Touch

One of our more gorgeous pink nail designs, it's as if a goddess were meant to have such perfect nails. Simple and elegant, this design is sweetly eye-catching for all occasions.
12. Matching Machines

Who wouldn't want to match their pink nail designs with their phone cover? This screams high-fashion and is a great idea – phones are becoming all the rage and it's fun to match the cover to your nails and outfit.
13. Zebra Stripes

If you ever want to spruce up your pink nail designs, adding some silver zebra stripes will definitely do the trick. You can try it with pretty much any color.
14. Monochromatic Melody

Look at all those shades of pink nail designs! This is truly the definition of monochromatic when it comes to the colors used. Try out any variety of geometric patterns on your nails – give each one its own personality!
15. Wildly Wonderful

Note that the ring finger and pinkie have their very own unique designs that match the rest of the fingers. Great concept to add some flavor to your nails.
16. Polka Dot Love

It's a fun trend that's going around – coloring one nail on each hand differently. It's almost always the ring finger – but you can choose whichever finger will create the most dramatic appearance.
17. Deep Pink Syndicate

Ready to rave? Go to a concert? Who doesn't love the contrast of a deep, vivid pink against the shadows of black?
18. Glamor Galore

For the girl that wants to show off design and technique amidst every finger, these designs can be easily done with a q-tip or if you've a few extra bucks in your pocket, at a salon.
19. Shadow Leaves

These black leaves look gorgeous with the pink background, as if looking at a sunset in a jungle.
20. Victoria's Secret

Have you heard of the "Pink" brand done by Victoria's Secret? It's meant to target teens and young women, but anyone can sport their amazing nail designs.
21. Wild Love Child

White, black, and pink. They're classic colors that go perfectly together, but finding the right design to fashion them in can be a challenge. This girl got it right, adding a bit of a wild touch to her tips.
22. Paint Me Perfect

You can see that these hearts are not stickers – each one was hand-fashioned onto the nail making this particular design truly unique.
23. Laced Tips

This dark pink mixed with a lace design makes it particularly sexy, readying the wearer for a romantic night out.
24. Innocent Bouquet

Who would have guessed that polka dots and flowers go so well together? You can always try new designs to fashion side-by-side to see if they look good.
25. Just Like Flowers
A French manicure using two shades of pink with added flower-like designs that match the flower on the ring finger.
26. New Golden Lengths

This is similar to a French manicure, but the cut-offs are different. Lining the two shades of pink as well as the stripes of white adds a golden touch that's perfect for formal occasions.
27. Little Feet

You can use a q-tip to create the zebra-like stripes on the pinkie, and choose a glamorous sparkle that's eye-catching for the ring finger and thumb. No matter what the design, you can always add a few tiny footprints to give it added cute charm.
28. Stripes, Stripes, Stripes!

Hot pink bordering purple with gems and zebra stripes. Great for a fun night out.
29. Dreaming of Animal Trails

It's not necessary to put animal print on each finger if you love this type of design. A simple dot on each finger without animal print will suffice.
30. Along the Edges

Lovely how the tips aren't cut off from the animal print in a straight line. Rather, they ease into the nail without a distinct cut-off.
31. Layers Upon Layers

To ensure that colors don't fade into one another, paint one bottom layer of color first, coat with a clear top layer after it dries, and proceed to paint an additional, colorful layer. This will help those designs stay vivid and in place.
32. Dash of Sparkle

Sometimes, all you need is a little dazzle with your perfectly pink manicure.
33. Razzle Swirl

Creating this design is relatively easy. All you need to do is place stripes of color on a nail (quickly, and place all colors on one nail at a time to avoid them drying too quickly) and take a toothpick to it, pushing the colors to and fro.
34. Patterns Within

Yes, there is plaid within those petals. Gorgeous.
35. Modern Chic

These designs are modern because they are simple, each is unique, and they all use easy geometric design. As if looking at a modern gallery.
36. Long Fashionista

Try out some long nails with pink designs. Not every nail has to be pink of course, but the combo makes for quite an interesting look.
37. Monochromatic Disposition

It's as if each nail is its own separate rose petal.
38. Thorny Edge

A French Manicure composed of roses is reminiscent of a Secret Garden, perfect for a day out amidst the flowers.
39. Singing Stripes

As if you could conduct a perfectly pink melody with the tips of your fingers. Stripes are increasing in popularity. Why? They're clean-cut, simple, and help you sport different colors.
40. Laced & Ringed

There's that unique ring finger again. It's done in hand-painted lace and outlined. Anyone can fashion this design using a toothpick.
41. Out of this World

This design is totally intergalactic, futuristic, absolutely stunning for the time-traveler. Before applying the glitter atop the pink, ensure you've placed a coat of clear to ensure paint doesn't smear.
42. Future Glam Child

Sometimes all you need is that extra shimmer and shine made possible by a single line on the side. It's easy to do and definitely eye-catching.
43. Lightly Natural
This light, natural shade of pink is perfectly accented with fading glitter. Reminiscent of a princess.
44. Add Some Hearts

This is quite similar to the design above, but with some added hearts to stir things up a bit and to add a slice of love. A wonderful design for Valentine's Day.
45. Striking, Vigorous

If these nails don't dazzle, then no nails ever dazzled! This design is high-fashion and meant for the bold of heart, making a statement of sophistication like no other.
46. Wedding Glamor

Designs with tons of added buttons and flowers and bows like above are usually the perfect design for a wedding that contains the same. But if you're feeling bold, try this design out for a different occasion!
47. Dipped & Dolled Up

It's as if she's dipped her fingertips into a jar of fairy dust! Love the fading glitter.
48. The Silver Lining

A gorgeous rendition of a dazzling pedicure. Two alternating shades of pink separated by a shimmering silver stripe.
49. The Magic of Fading Pinks

It can be hard to create a color fade yourself; these nails were more than likely done in a salon – but they're gorgeous in their own right and quite expensive looking.
50. Dotted Heart

This design is easy to pull off at home, all you need are a few shades of pink and a toothpick. Be sure that whatever finger you place the dotted heart on is painted white to ensure the pink stands out!
51. Printed Awesome

Sporting long nails is a hot look in its own right, but to add this hipster designs to them makes them truly remarkable.
52. Golden Flakes

These pretty pink nails are highlighted with a rush of golden glow.
53. A Lethargic Shade

Pink comes in so many shades – try one out that works well with your skin tone and don't forget a bit of sparkle.
54. Peacock Splash

Some blues and a dash of green to compliment an otherwise normal pink design. The way these colors pour into the nail are unique and truly come together with the gem on the tip.
55. All Natural Beauty

This simplistic design matches the tone of skin on the wearer, with a mild décor on the big toe that really makes this design beautiful.
56. Out Of Control

This bright shade of hot pink is truly out of control, especially with the contrasting white zebra stripes!
57. The Daisy Dukes of Nails

This is an awesome design – put each flower in a different place on each nail to give it a unique and tasteful vibe.
58. 80's Wonder

This shade of pink was quite popular in the 80's if you're familari with the era's fashion. Combining it with some geometric designs and glitter really bring these toes to date.
59. Criss-Cross Valentine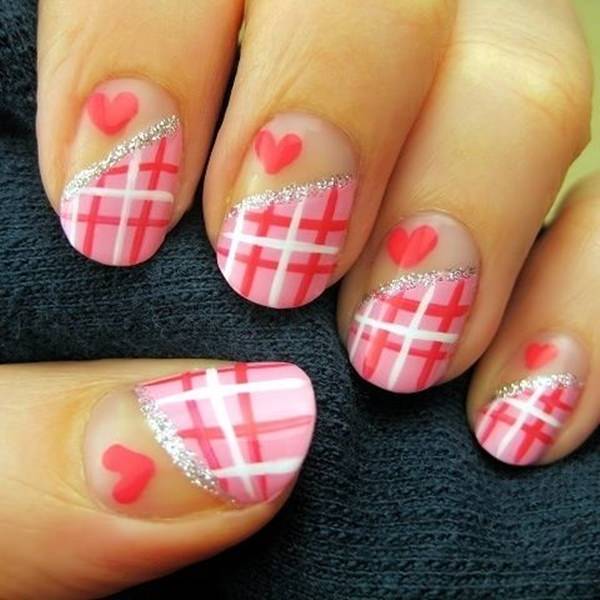 A wonderful rendition of a do-it-yourself design that's perfect for Valentine's Day.
60. Hot Sparkles

What's the perfect addition to a set of hot pink nails? Some sparkle, of course!
61. The Sexy Librarian

For some unexplained reason, this design needs to be on a sexy librarian. It's simple, almost plaid, and has some gold pieces within it.
62. Bringing 80's Chic Back

The geometric designs are coming back into style!
63. Mini Silvers

Adding a bit of silver to your pink designs is sure to fascinate and shimmer for your audience.
64. Platinum Destiny

These silver accents are well placed, being one of our platinum pink nail designs.
65. Large & Tiny

Both small and large sparkles combined can make any color perfect for a diva.
66. Gemmed Doll

Pink of any shade is never wrong when gems are added to the design. These are especially long, screaming high-fashion.
67. Monochromatic Twist

We've got a Barbie pink, powder pink, and a great deal of sparkles that fashion this lovely design. Stripes and zig-zags seen here are reminiscent of the 80's.